Nails, hair and facials, oh my!
Janie's House youth were pampered head to toe during a spa day at Texture Studios owned and founded by Seville Mckinnon. This event was hosted by Desiree Allen, founder of 'She's a Victor' nonprofit. This initiative focuses on inspiring young women and girls who have been abused and neglected. After touring Youth Villages' Bill's Place two years ago, Allen knew this was a mission she wanted to team up with.
"At this age, 14 to 17, it is necessary for these young girls to know who they are, to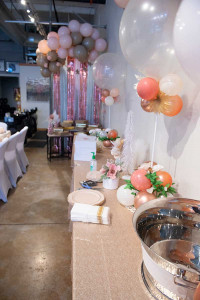 understand who they are and to know their worth and their value," Allen said. During this event, she hoped to instill confidence in the young women who attended.
As Janie's House youth walked in, they were presented with a beautifully decorated salon with balloon arches and a table of treats.
"Just being able to see the girls interact with each other and being able to see them happy, excited and smiling has been a joy," said Tanesha Woods, Youth Villages Assistant Director of Clinical Services.
"This experience has also brought me back to originally what my purpose was when I decided to get into this field."
– Tanesha Woods
Janie's House youth started out their luxurious spa day with homemade facials. This included coffee body scrubs, lip exfoliate and moisturizer. Youth participated in getting their
hair done to their liking. Professionals washed, blow dried and styled their hair. They also received freshly painted manicures from nail artists. "I want them to have the full experience," Mckinnon said. "It's also a learning experience for us to teach them what to do."
At the end of the day, youth were gifted beauty boxes, which included a variety of soaps, bath bombs and skin care accessories. "It went really well," a Janie's House youth said. "We had so much fun!"
Thank you to both partners involved—Texture Studio and She's a Victor— in making our youth feel extra special during this season and uplifting each other one trim at a time.